Record year for the Regional Office in Sorbolo (PR) in exceptional transport. Manager Cristian Mavilla: 'We've grown again after Covid'. Traffic lights dismantled at night and transhipments as far away as Russia, but also entire wagons and trimarans transported by road: the secrets of extraordinary transports.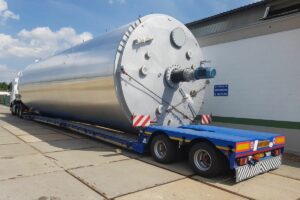 In Sorbolo, in the province of Parma, there are professionals in exceptional transport, even up to 80-100 tonnes: heavy and large transports for the industrial, electromechanical and fossil energy sectors.
From industrial machinery to construction equipment, from boats to oversized shelters: if there's something huge to transport by road, the specialists at our Emilian headquarters operate nationwide.
They have 1,500 square metres of storage space and 11,000 square metres of yard, in a fenced, lighted and guarded area with staff and closed-circuit video surveillance.
There are fifteen workers currently employed at the Regional Office in Sorbolo, whose turnover is expected to be around four million in 2021, in clear growth after the slowdown due to Covid. "We doubled our services during the year, the big transports started again," explains Cristian Mavilla. "After joining Bracchi we have further extended our services, offering new opportunities to our customers. When it comes to "impossible transports" we are ready to design a project that starts at the construction site, crosses kilometres of asphalt and arrives at its destination by moving every obstacle that may be in the way".
The company's investments are focused on the green sector, with the aim of replacing all its vehicles with Euro 6, and it is also looking at electric vehicles. "Logistics, including exceptional transport, must be increasingly seen as environmentally sustainable," explains Mavilla.
There are some very special mega transports in the company's CV. Transports to Russia, Finland, Spain and Belgium. Although the company's pride and joy may be that trimaran with 29-metre-long parts transported from Bergamo to the Atlantic coast of France via provincial roads: many of its competitors turned down the challenge.