Bracchi at EIMA 2018 as a trusted partner for the exceptional transport of agricultural vehicles. A careful and complete service, thanks to the own fleet of vehicles and a logistic hub very prepared and reactive to the client's needs, allows us to realise more way of transports in the sectors we operate.
From 7 to 11 November EIMA 2018, the International Agricultural Machinery Exhibition, takes place in Bologna for its 43rd edition. The biennal exposition, promoted by the Italian Agricultural Machinery Manufacturers Federation in collaboration with Bologna Fiere, is the reference point for exhibitors and professionals in the field of machinery for agriculture, livestock breeding and gardening.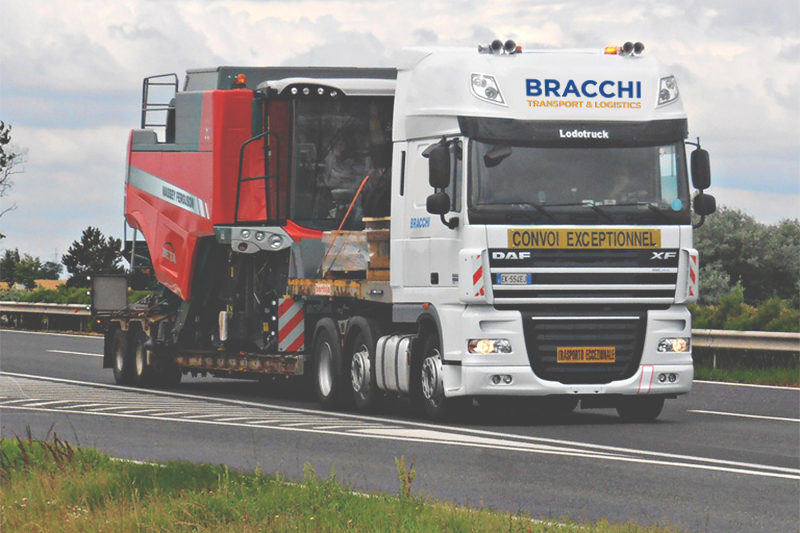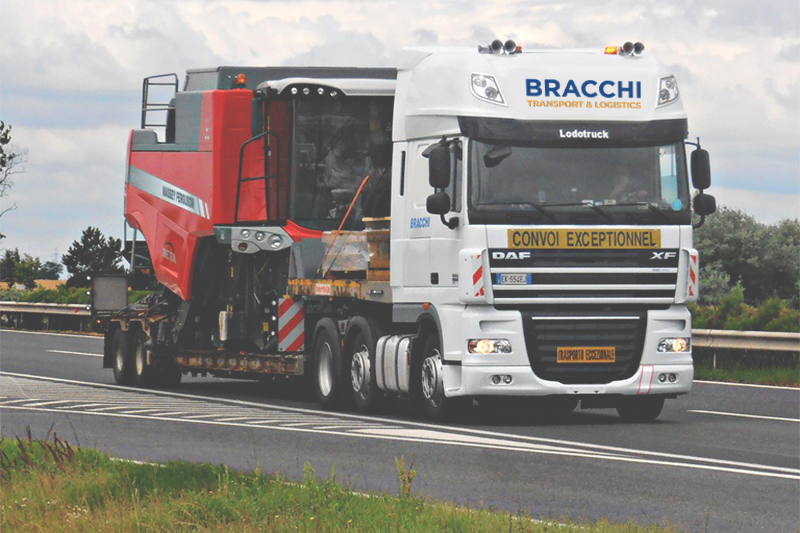 An international showcase that will gather in 375,000 square meters all the latest news about the sector, with over 50,000 models on display including agricultural machinery and equipment for tilling the soil, seeding and fertilizing, irrigation and harvesting.
Again this year, EIMA promises to be an international event: indeed, there will be over 1900 exhibitors from all over the world and 300 thousand visitors expected from 150 countries.
Besides the exhibition, the EIMA programme includes a rich calendar of events, business-to-business meetings between operators and exhibiting companies, as well as conferences and awards. Therefore it will be not only an exhibition, but also an opportunity to exchange information and to discuss key issues such as security, digital technologies and agriculture 4.0.
Bracchi will be present at EIMA alongside the main exhibitors as a trusted partner for its agricultural machinery transport services. Indeed, Bracchi has managed exceptional transport for the most important international companies of the sector for over 30 years, also dealing with the transport of their machines to the fair for EIMA 2018.
Il mercato dei mezzi agricoli, in mostra a Bologna in questi giorni, è il primo in cui Bracchi ha consolidato la sua presenza e tuttora riveste un'importanza strategica.
For this reason, our aim is to guarantee an attentive and timely service to best meet the transport needs of each customer according to the specific characteristics of their products.
Thanks to the best logistics facilities and to a fleet equipped with the most modern equipment, we manage storage, handling and transport of agricultural machinery, ensuring customized solutions for the transport of any machine, whatever size or weight. Some examples? Every day we organise exceptional transport of agricultural tractors, combine harvesters and sprayers, but also seed drills, harrows and round balers throughout Italy and Europe.
The skills gained in thirty years of experience and continuous investment in the best technologies available on the market have made Bracchi one of the leading companies in exceptional transport for agricultural machinery.
One of our strengths is the commitment we put into offering complete and professional assistance during each transport phase. Bracchi, in fact, handles every aspect of transport, from the analysis of the load and the route planning, to the completion of bureaucratic procedures, up to the request of authorization for transit and the stockpile management for exceptional transport.
During loading and unloading, the exceptional transport of agricultural machinery is supported by specific equipment, such as cranes, trucks and vertical transport systems that allow deliveries directly to fairs or building sites.
In order to meet the most diverse needs with a custom service, Bracchi offers standard transport services and more complex Project Engineering solutions, carefully designed together with each customer to guarantee their total satisfaction.
Are you looking for a trusted partner in the transport and logistics sector to which you can entrust the transport of your agricultural or operating machines? Contact Bracchi to receive a free quote! We are at your complete disposal to study a tailor made exceptional transport service, according to the best methods, costs and timing for your needs.