We created an internal training school in order to face the challenges of the safety at work and to teach the risks at work. On the Covid front, acceleration on smart working. The news: remodulated the company spaces to ensure internal spacing and greater safety in the reception of truck drivers.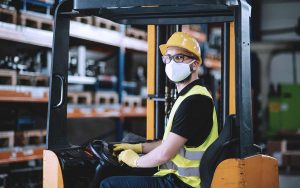 Safety work lessons are usually theoretical. The experts called to teach to the workers or the employees what they risk can't know all the details about the risk linked to the company. They only talk about some examples, that are usually useless. For this reason we decided to start a forerunner project in the logistic world, that propose itself like as one of the best practice in the sector at national level.
A "high training school for safety" was born, managed by the Quality, Health and Security on work Bracchi's responsible, Andrea Facoetti.
"We decided to create solutions by using videos and images of our work areas to use as a case history during the courses" Facoetti said. "Luckily we have never registered serious injuries in the company, but sometimes some minor episode can happen. In those cases, we do a specific report and we study the mistake with our employees in order to create a shared company culture. The knowledge of everybody about the causes of accidents is our main goal".
"We are a pragmatic company, sterile and non-clear rules do not promise security" Mauro Crippa adds, Bracchi's General Manager. "We also joined Issa proposal "Vision Zero" (International Social Security Association, ndr) and we are UNI ISO 45001 certified".
Covid is still the main emergency. We increased to 5 the 20 minutes turns for the companies' canteen and we introduced the hygienisation with "dry fog" of common spaces, in addition to standard measures as desk spacing every 2 meters, and our employees who work in smart working thanks to a new pc company network. We also change the management of the arrival of truck drivers and of the reception methods of visitors and external suppliers.
"We set-up an ad-hoc entry with fever measurement for visitors and truck drivers, in addition to the daily employees' measurement", Facoetti said. "We use document-handling counters, in order to avoid contact during the exchange of documents, a sort of diagram that let the driver leave the papers and then go away without getting in touch with our employee. We also created some spaces to who come from abroad, that can't go in the common ones in this moment, in order to increase the level of safety".
Bracchi's commitment continue with specifics initiatives for its employees' security. Mauro Crippa concludes by saying that: "thanks to a business convention, our employees that fear that they made contact with some positives can immediately make a swab in an affiliated office and that guarantees safety and calm".