Bracchi confirms itslef as a trusted partner of Schindler for its transport and logistic services. Bracchi improves its relevance in the lifting sector, even if it was already a leader of the sector, in order to ensure Schindler's trust for the supply-chain management in the European territory.
Schindler, leading company in the urban mobility sector, organized the European Supplier Day on April 25th and 26th in Bratislava. The Schindler brand was founded in Lucerne, Switzerland, and today is an internationally established company with offices in over 100 countries around the world.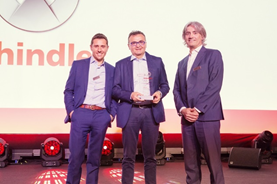 The company, partner of Bracchi for 20 years, deals with design, installation and maintenance services for elevators, escalators and moving walks. Schindler has always been committed to provide mobility which is focused on safety and efficiency. In this way it promotes the development of a connected urban fabric with sustainable solutions that allow to preserve the value of buildings over time.
Like Schindler, Bracchi shares the same passion for mobility, that we put in high value-added transport and logistics services tailored to our customers' needs.
Thanks to solid and long-lasting collaborations with the most important actors in the lift sector, Bracchi has been a European leader in this field for over 20 years. For our customers we follow the entire supply chain, offering inbound and outbound transport and logistics services, as well as a network of Distribution Centers in Germany, Italy and Slovakia.
Furthermore, an extensive network of reloading points spread across Europe enables us to guarantee a widespread distribution to best meet the needs of international companies like Schindler.
During the European Supplier Day Bracchi received the CollaborAction 2017 award, confirming itself as Schindler's trusted partner for its supply chain management in Europe.
The award was received by the General Manager Mauro Crippa, the Responsible of the Logistics Division Matteo Perazzoli and the Chief Executive Officer Lorenzo Annoni, who presented the numbers of Bracchi Group and described the long-standing partnership with Schindler.
Thanks to the experience and the know-how gained over the years, Bracchi guarantees a reliable and quality transport and logistics service to meet the needs of very different companies with efficient and ad hoc solutions.
Are you looking for the best transport and logistics services for your company? Contact Bracchi at +39 0363 3901 or fill in the contact form to receive a free quote.