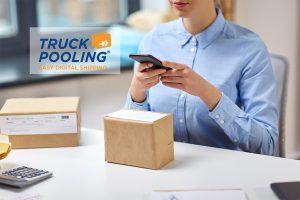 Truckpooling.it, the only online freight forwarding portal that allows total customisation of the service, together with Bracchi, exceeded one million shipments during the year. Thanks also to the release of a major update, with new features in terms of infrastructure, services and rates.
The pandemic has accelerated online sales. The data released during the last Netcomm Forum Live speak for themselves. Since the beginning of 2020, Italian online consumers have increased by 2 million, 1.3 million more than estimated. At global level, e-commerce has grown by 55%. Italians are now buying online what they used to buy in shops: pet care (+154%), fresh and packaged food (+130%), home care products (+126%) and personal care products (+93%).
An acceleration that has also affected online shipments of envelopes or small packages, both by individuals to relatives or friends and by companies that previously transported everything in person. This is why Truckpooling.it, an innovative spin-off of Bracchi, which allows private individuals and companies to find the best rates for online shipping by comparing the offers of the main express couriers in just a few clicks, has seen a real boom in recent months.
To date, it has more than sixty thousand active users, one in ten of whom are companies: the platform's growth is in line with the general growth of Bracchi: by 2020, forecasts are for more than one million shipments to be made. In the first half of 2020, the platform saw a 50% growth in orders, visits and registrations to the site compared to 2019. Shipments of small parcels across the country grew by 80%, and there was also strong growth in the selection of "collection points", where parcels are delivered or collected, a system that recorded a 75% increase.
These figures are due to the authoritative nature of the portal: one of the first price comparators in Italy, it is now the only one able to provide users with total customisation of the shipment, with the selection of additional services such as delivery to the floor, selection of collection and delivery points, goods insurance and reservation of tail lifts. We have seen a considerable boost mainly from the Italian market and the boom in the e-commerce sector experienced in recent months.
This growth is the perfect driver for the many new features that the platform is preparing to launch in the coming months. Over the last few days, we have released an update to Truckpooling with many new features in terms of infrastructure, services and pricing. Among the new features are new partnerships with express couriers and new very attractive rates for small consignments throughout the country. This update is a prelude to the release of the new B2B feature, an evolution of the platform designed specifically to simplify the management of shipments for companies and e-commerce.